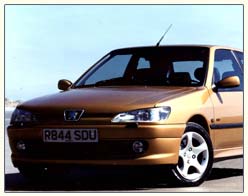 Not so long ago, a hot hatchback was the car to have. The Golf GTi, The Peugeot 205 GTi and Ford's good old XR3i have all been the cause of much merriment.
Their demise, due to car crime and high insurance premiums, is well documented and the death knell sounded for the whole class when Ford stopped selling the Escort XR3i - the most popular of them all. But there's been a steady revival of the sporting hatchback in recent years.
Manufacturers were at first shy of openly declaring a car's potential by putting a GTi badge on the back, but in 1996 the new Peugeot 306 GTI-6 provided the proof needed that the hot hatch had returned. And with a reasonable supply of used examples available, the 306 is now firmly back on the centre stage.
For many the old Peugeot 205 GTi 1.6 was the best and any Peugeot carrying a GTi badge has a reputation to uphold.
The 306 offers 16-valves, a six-speed gearbox and passive rear-wheel steer. It's often rated as a more refined, but very worthy successor to the 205's crown.
Perhaps VW's Golf VR6 has a greater image, but the 306 would definitely be the driver's choice. Currently, French flair can be bought for around £6,500 in the shape of early, five-year old examples - that's three grand less than an equivalent Golf.
The multi-valve engine is smooth, free-revving and turns out an impressive 167bhp at 6,500rpm. That's good enough for 137mph and 0-60mph in 8.5 seconds.
A six-speed gearbox sounds a bit of a gimmick, but it really provides the icing on the cake. Top gear is no higher than a normal fifth ratio (it pulls 3,250rpm at 70mph) and the others are closely stacked so the engine is always ready for action.
On the subject of performance, as a victim of its own success there's always the odd 306 with a chequered past. And with anything that invites enjoyment, it's wise to check the condition of the mechanicals for signs of abuse.
Think twice if it's been modified, too - there's nothing wrong with the standard item and there's plenty about. Peugeot's 306 set new standards back in 1993 for handling and the GTi took it to another level.
Gentle understeer gives way to slight oversteer as the rear-wheel steering kicks in. You can feel the nose tucking in as the rear corrects the chosen line.
The power steering one of the best, although a little heavy at parking speeds it will reward your efforts with a light and balanced touch at speed. The ride is supple enough to provide almost saloon car comfort and this helps the feeling of fluid, smooth cornering.
There are no severe jolts to break traction as you put the power down coming out of a bend. Brakes remain first class and ABS was standard from launch.
Styling of the 306 GTi-6 is quite restrained - apart from alloy wheels only discreet sill extensions and a small spoiler above the tailgate mark the Pug out as something special. Inside, the design is also standard 306 fare and a bit sombre, although there are sports seats, a leather-clad steering wheel and gear-knob.
Despite a comprehensive list of equipment including electric windows and mirrors, sun-roof, remote locking, immobiliser and air-conditioning, make sure all the bells and whistles work.
While usually reliable, it's not uncommon for glitches to surface and spoil the fun. And Peugeots can suffer more than the odd squeak and rattle from the trim - it's not as tough as it looks.
While experts in performance tuning, build quality has never been the French firm's strongest attribute so don't be afraid to poke and prod the interior.
With one major and one minor facelift under its belt the 306 has improved in the last few years. Don't be put off by the less than Golf-like build quality. The 306 is an awesome driving machine.
The flabby Golf is outclassed in the handling department and lacks the communicative controls of the Peugeot.
It may not be as durable but neither do you pay the premium associated with the German hot hatch, making the GTI-6 a used performance bargain. Verdict: maybe best used hot hatchback on the market.
FACTS AT A GLANCE
Model: Peugeot 306 GTi-6, pay from £6,595 (1996 N).
Engine: four-cylinder petrol engine of 1998cc producing 167bhp at 6,500rpm, and 145lb ft at 5,500rpm.
Transmission: front-wheel drive through six-speed manual gearbox.
Brakes: discs front and rear, with ABS.
Performance: maximum speed 137mph; 0-60mph 8.5 seconds.
Economy: 25.2mpg on the urban cycle; 44.1mpg at a constant 56mph; 35.3mpg at a constant 75mph. Test average 32.2mpg.
Fuel capacity 60 litres (13.2 gallons).
MODEL HISTORY
1993 Apr: front-wheel drive 306 hatchback introduced.
1994 Jan: three-door sporty variants launched. 2.0 XSi and S-16 with electric mirrors and front windows, PAS, sports seats. S-16 gets ABS and alloy wheels.
1996 Jul: GTi-6 introduced with equipment levels equal to S-16. Better brakes, different alloys and six-speed gearbox set it apart from rest of range.
1997 Apr: major revisions to range include restyled front bumper, grille and lights, plus new instrument panel and increased levels of equipment.
1999 Jun: further revisions to range including new lights, indicators and metal-look dash inserts.
WHAT TO PAY
1996 N £6,595
1996 P £7,175
1997 P £7,575

REVISED RANGE
1997 P £9,980
1997 R £10,695
1998 R £11,215
1998 S £11,905
1999 T £13,040
1999 V £13,775
2000 W £15,540
2000 X £16,500
Figures relate to showroom prices for cars in A1 condition.